Below is a list of some of the most popular Ebay alternatives, online marketplaces and auction sites.
While there are many Ebay alternatives popping up all over the internet, most of them haven't been around long enough to make it here.
Also, I have NOT listed sites that are:
Only moderately popular.

Being 

heavily 

criticized.

Focusing on a niche.
Sorry if some marketplace owners are upset by this, but I'm not here to promote — I'm here to offer guidance.

While I personally feel the best Ebay alternative is the Amazon marketplace in terms of sales and traffic, I believe most people reading this article are looking for alternatives that charge lower fees…
While such sites do exist, they have small advertising budgets due to low or 0 seller fees. Personally, I believe that many sales on Amazon and Ebay come from their affiliate programs and advertising campaigns. 
Thanks to the help of Google shopping, some of these smaller marketplaces have had their fair share of success. Unfortunately, since Google shopping recently switched over to a paid business model, some have seen a decline in sales. As a result, it might be a bit harder to generate a lot of sales on some of these other marketplaces.
Fortunately, Bing shopping is still free, but I just don't know for how long… Especially since Bing tends to follow in Google's footsteps. After all, Bing shopping was once a paid business model — which I believe would have remained paid if it wasn't for Google shopping being free at the time.
With that being said, some of the marketplaces listed below have received an enormous amount of media attention. So it's not like these sites don't work, they just might not work as well. Personally, I recommend giving them all a shot because as the saying goes, there is strength in numbers.
Sites have been ordered based on Alexa rank: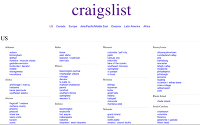 Craigslist.org
While this is a classifieds site, you can find just about anything on Craigslist. Also, things actually sell well on here and the site has been around since the 90's.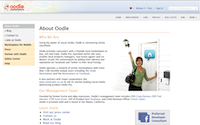 Oodle.com
Oodle operates a network of marketplaces and has more than 15 million users. Oodle also operates the Marketplace on Facebook app.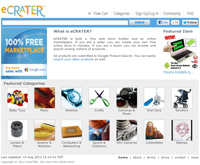 Ecrater.com
eCRATER has been around since 2004. This is a 100% free online marketplace that is made up of stores which are hosted on Ecrater.com subdomains.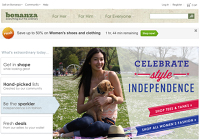 Bonanza.com
Bonanza (initially launched under the name Bonanzle) has only been online since 2008 but has quickly gained popularity. This is an online marketplace that offers easy to setup stores which receive their own vanity URLs.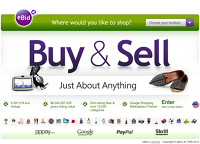 Ebid.net
eBid has been around since 1999 and is amongst the very few general merchandise auction sites left on the web today. Aside from being an auction site, sellers can set "buy it now" and "make an offer" buying options.
Marketplaces similar to Amazon's:
Also, there are now more and more sites adopting Amazon's business model. These sites really have a lot of potential because they can generate a lot of sales for merchants due to their popularity.
Unfortunately, many of them require you to fill out an application before you can sell on their sites. This is basically what I believe sets them apart from the other marketplaces that I have mentioned above. I do, however, believe that it's well worth the effort. See the list of sites below: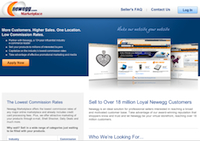 Newegg Marketplace
Newegg (a popular place to shop for computers and electronics) decided to let merchants sell on their site in 2010. There are many categories to list in — apparel, automotive parts and accessories, jewelry and toys are just a few of them.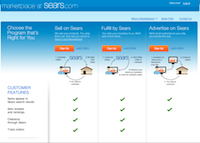 Sears Marketplace
Sears is a very popular retailer that operates many department stores across the US. It probably goes without saying that their online store is popular as well, and luckily for us, they have a marketplace.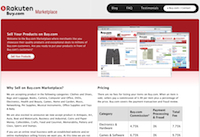 Buy.com Marketplace
Buy.com was founded in 1997 and is one of the most popular shopping destinations on the web today. The Buy.com marketplace was created in 2006 and features a large variety of items for sale.
So there you have it, the most popular Ebay alternatives on the web. Now, aside from marketplaces, there are actually many other great ways to sell online — like having your own store which is quite easy these days.
There are also many advantages to having your own store. For more information on some of these advantages, please see: promoting an Ebay store vs your own.
If you would like information on how to go about opening your own store, please see this article.