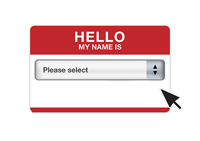 Now that we're ready to setup our store, we need to register a domain name.
Registering a domain name is quite easy and affordable. Godaddy.com, Namecheap.com, Register.com are just a few domain registrars to choose from.
Choosing a domain name:
As for the domain name which you will use, it can pretty much be anything. If you have an official company name, you might want to use that. If you don't, you might want to use a term that best describes your business.
As you can see, I have chosen the domain name creatingawebstore.com for this site. I typically try to come up with names that describe what my websites are about.
For example, if I were to open a store that offers gardening supplies for sale, I would try to get a name like gardeningsupplies.com. 
This of course is just an example and it would be very difficult to get a domain name such as gardeningsupplies.com because it's a popular term. 
Why? Well these type of domain names are called EMD's (exact match domains).
Some people buy such domains because they believe that these give a slight ranking boost. While others argue that EMDs no longer give a ranking boosts these days.
Some even say that EMDs only work in certain search engines. For example, they say EMDs work in Bing but not in Google.
As a matter of fact, Google recently released an algorithm update that is supposed to prevent low quality sites with EMDs from ranking well in their search engine. Matt Cutts (head of Google's spam team) actually tweeted about this on 9/28/12.

Therefore, I guess those that don't believe EMDs work, may actually be right. But I do, however, still see many sites with EMDs ranking well in Google… Maybe Google considers those sites "high quality"…
Either way, whether EMDs rank better or not in the search engines, a name that actually means something may still help give your visitors a better idea of what your website is about. Similar to how the title of a book may give you an idea of what the book is about.
Just be careful because if you choose a highly competitive term, you may find it hard to rank well in the search engines.
To figure out whether a search term is highly competitive, you may want to use the Google keyword tool. Simply, enter a term into the word or phrase box, make sure [exact] is selected and broad is deselected in match types and click the search button.
On the results page select the tab keyword ideas.
Look at the number of global monthly searches as well as local monthly searches. If the numbers are moderately high, it might take you a while to rank for the term.
On the other hand, if the numbers are very, very high, you might not be able to rank at all. So choose wisely.
Think long term when you register your domain:
Another thing to focus on is the TLD (top level domain) that your domain name will be registered under. For those not familiar with this term, a TLD (top-level domain) is the .COM .NET .ORG etc. of a domain name.
For instance, in creatingawebstore.com the TLD is .COM. Since I live in the US, I always try to register a .COM. Of course, if you live in another country e.g., Germany or the UK, you might decide to register a .DE or .UK domain name, respectively.
Either way I recommend registering under the most popular TLD for your country.
Now, if the most popular TLD for your desired name is taken, you may decide to get an alternate TLD — something like .NET, .ORG, .BIZ, .CO etc. 
While registering your domain under a .NET, .ORG or .BIZ isn't necessarily a bad thing (I own a couple of domains which are not .COMs myself), it can make it more difficult for some visitors to remember your domain — especially since a .COM is pretty much a standard online.
I actually registered a .NET once and ended up registering a new domain name under a .COM later on, because people were searching for my site in the search engines with the .COM TLD rather than the .NET TLD. 
I also believe that if your site becomes very popular and someone else owns the .COM, you may end up losing traffic to the .COM site. This can give the owner of the .COM site an opportunity to monetize the traffic that was initially intended for your site.
This could be in the form of competitor ads, affiliate links or maybe even a clone site that directly competes against your site.
Also, in many popular web browsers (in the US at least) when you type just a name (excluding the TLD) into the address bar, the web browser will automatically append the .COM to the end of the name.
Another way that people have managed to register names which are taken, is by using hyphens (-).
This has actually become very popular. For example, some people will try to get gardening-supplies.com if they cannot get gardeningsupplies.com.
The downside to this is that it can lead to more confusion for users because some may forget to add the hyphen(s) to the name. So, in general, take a little time to decide on the right name.
Bottom line, just look at things from the customer's perspective and I'm sure you will register a domain name that works well for your store…