Why WordPress?
For those that are looking to setup a blog for the very first time, WordPress is amongst the easiest to use and has many great features. It's also the most popular. Which is why I've decided to put together this video tutorial which shows people how they can quickly and easily build a professional WordPress blog in less than 45 minutes.
The tutorial covers:
Installing WordPress manually using FileZilla.

Installing a new theme.

Configuring your blog.

Enabling search engine friendly URLs.

Adding static pages for about us and privacy pages.

Disabling and enabling comments.

Adding categories and tags.

Adding blog posts.

Using the HTML editor.

Editing images.

Changing your homepage to a static page.

Working with menus.
And more…
For those of you that would like to install the same theme that I installed in the video, I used the formation theme.
In the video, I added an RSS feed link to my footer. If you would like to add one as well and have search engine friendly URLs enabled like I do in the video, the URL of the feed is:
http://yourdomain.com/feed/
Be sure to replace yourdomain.com with the domain that you are using.
List of web hosts that offer 1-click WordPress installations:
Building a WordPress blog:
Below is the step by step tutorial which covers the entire process in detail. As you can see, I built a fashion blog but the process is the same for any other niche.
In fact, even the theme is highly customizable so you can make it work with any niche as well. However, if you'd prefer to install a different theme, you can always do so.
Can't view the video? Watch it on YouTube
Add a contact form to your blog: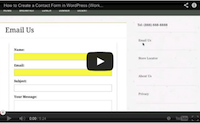 How to add a contact form to your blog
Adding a contact form to your blog only takes a few minutes and in this tutorial I show you how. The plugin provides a way to have the emails sent to multiple recipients, you can add additional fields and more.