A while back I tried WooCommerce for the very first time and while I was impressed with it back then and liked the fact that it was running on WordPress, I never imagined that it would become as popular as it is today.
As someone that has thoroughly tested WooCommerce as well as many other shopping cart solutions, I'd have to base WooCommerce's success on: ease of use, design, time it takes to get a store up and running, advanced functionality and the fact that it runs on WordPress.
I personally found how little time it takes to get a store up and running with WooCommerce the most intriguing and it's actually what inspired me to put together the tutorials below.
Of course for those of you that haven't seen WooCommerce just yet or are still deciding on whether to use it, you may want to first watch my video on"What is WooCommerce?"
Can't view the video? Watch it on YouTube
As for those of you that are ready to install and setup your WooCommerce store, you may want to take a look at how I built mine:
In this tutorial I show you everything from start to finish. This includes: installing WordPress; installing WooCommerce; configuring your store; creating categories, subcategories, attributes; listing simple products, variable products and more.
In addition to that, I've also put together other tutorials which show you how to: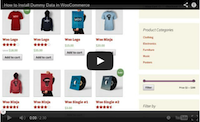 Install Dummy Data
For those of you that are not familiar with the term dummy data, these are sample products, categories, attributes, reviews etc.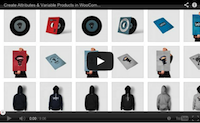 Attributes and Variable Products
While I covered attributes and variable products in the first tutorial, I wanted to go a bit deeper into this by showing you how to work with multiple attributes. For demonstration purposes, I show you how to create a variable product for a tee shirt that comes in multiple sizes and colors.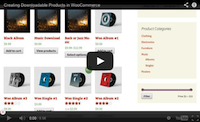 Downloadable Products
Since I was building a store that sells tangible goods in the first video, I felt that I should also cover intangible goods such as downloads. In the video I list music downloads as simple products as well as variable products. The process is also the same for all other downloads such as movies, games, software, themes, etc.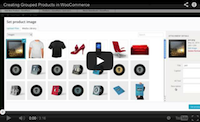 Grouped Products
When selling matching items or items that go well together, it's great to be able to showcase those items on the same product view page because it helps buyers find those items faster or maybe even see items that they may have otherwise missed. In this tutorial I show you how I grouped together multiple music tracks that belong to an album. Of course this can also be used for other items such as furniture sets, clothing and more.